IJCAI-19
August 10-16, 2019, Macao, China
Welcome to IJCAI 2019, the 28th International Joint Conference on Artificial Intelligence. This will be the second time that IJCAI is held in China: the first time was 2013 in Beijing, the capital of this large country. Macao is the single most consistent example of cultural interchange between Europe and Asia; the official languages are Chinese and Portuguese. Having developed into a bustling city with a worldwide reputation in entertainment, Macao is also at the heart of the Guangdong-Hong Kong-Macao Greater Bay Area, which promotes its fast development in IT education, research, and industry in recent years.
Macao is easy to travel to: it is connected directly to Hong Kong International Airport and Shenzhen International Airport by high-speed ferry, which is only a 60 minutes journey. The longest bridge in the world connecting Hong Kong and Macao is supposed to be opened in late 2018; this will further reduce the transfer time. Macao International Airport is just located in the city center, about five minutes drive to the hotel and convention centers. Macao can be entered without visa or with one issued on arrival for most countries; visitors from over 200 countries enjoy this policy.
IJCAI 2019 will take place in the convention center of the Venetian Macao Hotel Resort, which is located on the Cotai Strip, the heart of modern Macao's accommodation, event and entertainment offerings. The Cotai Strip is a stretch of reclaimed land that now joins the islands of Coloane and Taipa. It is close to all the major entry points to Macao, by land, sea or air and with easy access to Macao's many points of historical and cultural interest. Furthermore, it provides modern infrastructure and a choice from thousands of rooms in a suite of hotels, bars and lounges, theatres, shopping malls, etc. Conference delegates will enjoy an evening reception at the beautiful new campus of the University of Macau and a banquet dinner at the world's largest casino property.
Attend IJCAI 2019, and enjoy a unique city where far-east and west meet in long tradition, while taking part in the leading Artificial Intelligence gathering. Don't miss the opportunity of side visits to Hong Kong and other exciting places close by.
 Follow us on social media
Official Poster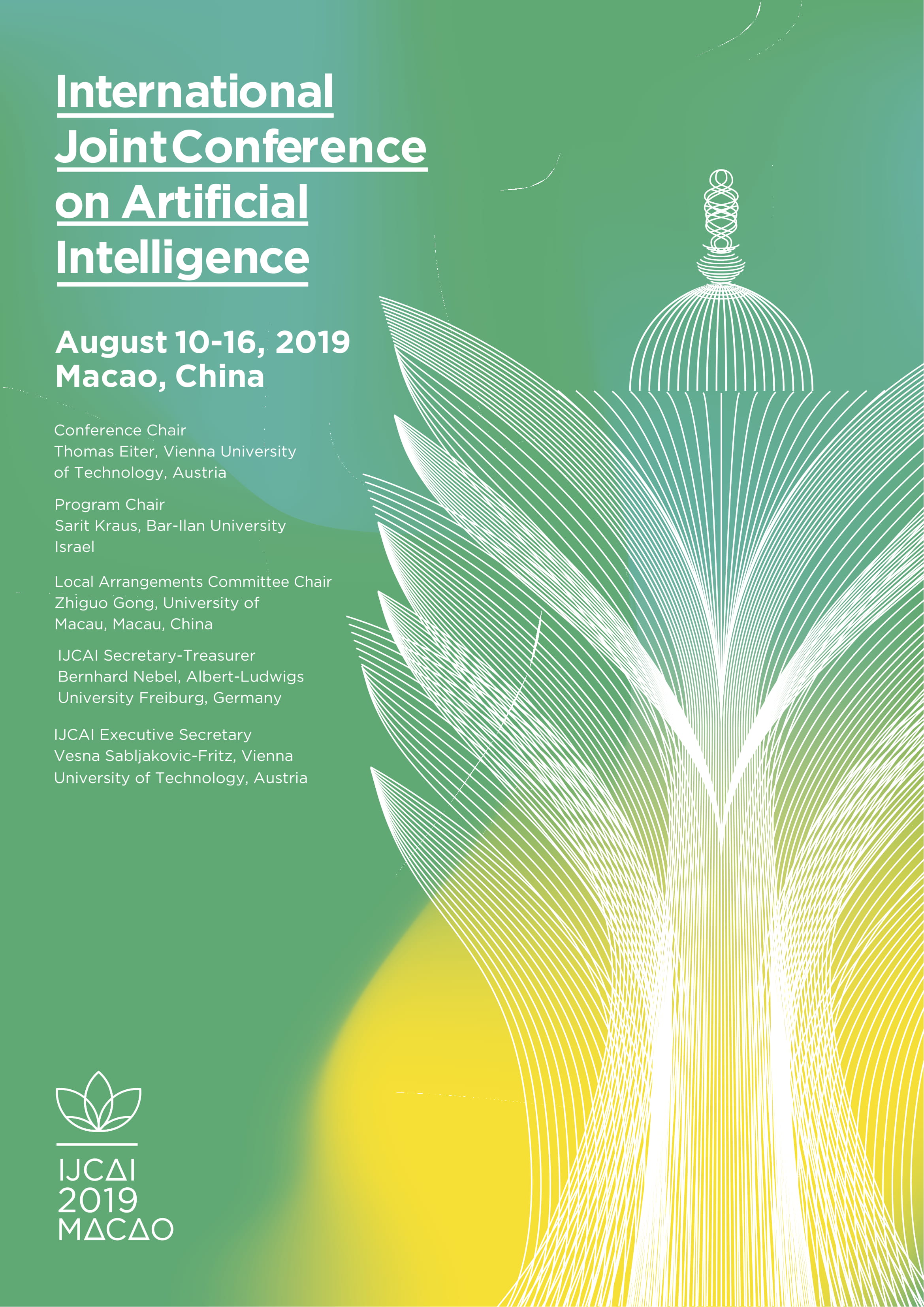 Please download the poster and post it at your organization.