Transportation to Macao
Located in China, Macau was under Portuguese administration till 1999, when it came under Chinese sovereignty. That is why Macau is indeed a city that blends of Oriental and Western cultures. You can find Chinese temples sit on streets paved traditional Portuguese tiles; Chinese faces walking on the streets with Portuguese names; unique Macanese cuisine that combines the best of Chinese, Portuguese and Western ingredients and cooking. With its historic streets, residential, religious and public Portuguese and Chinese buildings, the Historic Centre of Macao was also inscribed on the UNESCO World Heritage List.
Macau develops itself into a quality international tourist destination. There are various attractions, from historical temples & churches to modern buildings, from culture & festive events to nightlife, from shopping malls to tranquil parks. Macau is just a city that you could not miss out!
Macau's weather is generally cool and clear in autumn. The average temperature is between 18°C (64°F) and 23°C (73°F).
By Air
There are many direct flights from different countries and regions in Asia to Macau. Macau has the direct flights to the following destinations: Bangkok, Busan, Cebu, Chiang Mai, Clark, Da Nang, Fukuoka, Hanoi, Jarkata, Kuala Lumpur, Kaohsing, Sihanouk, Songapore, Manila, Osaka, Phnom Penh, Seoul, Siem Reap, Singapore, Taichung, Tokyo, Pattaya, and other 21 major cities in Mainland China, such as Beijing, Shanghai & Chengdu.
(1) Macau International Airport
(2) Hong Kong International Airport (HKIA)
PS: After arriving at HKIA, delegates need to purchase a ferry ticket from HKIA to Macao. There are two ferry operators—Turbojet and Cotai Water Jet.
By Water
Hong Kong Macau Ferry Terminal <—>  Macau Maritime Ferry Terminal (Outer Harbour Ferry Terminal):
(1) Turbojet   (2) Cotai Water Jet
HKIA <—> Macau Maritime Ferry Terminal (Outer Harbour Ferry Terminal):
(1) Turbojet   (2) Cotai Water Jet
Please note: (1) sailing schedules and fares being provided in the website are subjected to change. (2) Delegates do not have to cross the HK immigration and pick up their luggage if they opt to ride a ferry from HKIA to Macau Ferry Terminal. (3) There is a 60-minute luggage handling time, that is, delegates have to purchase a ferry ticket from HKIA to Macau at least 60 minutes before the departure of the ferry so that enough time is given for the staff to transfer the luggage from aircraft to ferry.
By Land
There are two gateways to the Guangdong Province from Macau. One is Barrier Gate on the borders on Zhuhai and other is the COTAI Frontier Post at the end of the Lotus Bridge on the island of Taipa.
Barrier Gate, located at the northern end of the Macau is the main entry gate to Zhuhai in Guangdong Province. It is the gate by which travelers enter mainland China. Actually all bus services operating between Macau and Guangzhou pass through this gate. All travelers are required to have the same travel documents (for example your valid passport and Chinese visa ) which are required when entering China via other cities such as Beijing, Shanghai or others.
Gongbei Border, nine kilometers away from Zhuhai city's government center, is a Chinese border immigration checkpoint. It connects Macau to the south and several hundred meters from its counterpart, the Barrier Gate.
Hong Kong International Airport (HKIA) to Macau
To have a pleasant journey to and from the airport, we have put together some tips and suggestions for you. There are two ways that you can travel easily to Macau from HKIA, please read the below information carefully to better plan your trip.
1. By Ferry
Passengers looking to take a ferry to Macau should proceed to the ferry ticketing counter at Transfer Area E2. DO NOT go through immigration and reclaim your baggage. Passengers who have gone through immigration procedures CANNOT return to the ferry ticketing counter and use the ferry service.
To use the service, passengers must:
Possess the following items: (1) Same day arrival flight air ticket / e-ticket / boarding pass stub; (2) A valid ferry ticket; (3) A valid passport and, if applicable, a visa for Macau.
Transfer to Macao within the same day of arrival.
Arrive at the Ferries to Macao Ticketing Counter located at Transfer Area E2 at least 60 minutes before the scheduled ferry departure time for ticketing and transfer procedures. For passengers without checked baggage, 30 minutes would be sufficient.
For passengers with checked baggage, please present the airline baggage tag receipt for customs clearance and baggage transfer procedures.
View the right flow chart outlining the required steps.
Ferry Schedule to Macau: Cotai Water Jet and Turbojet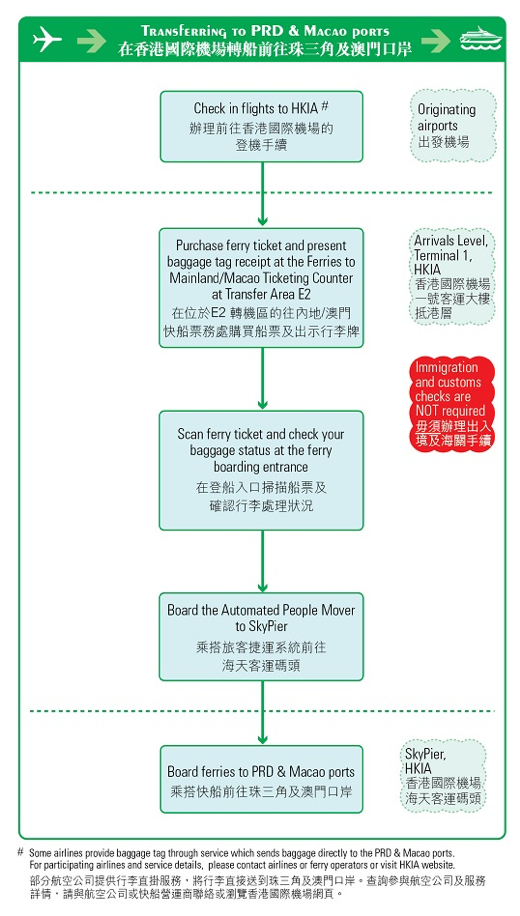 2. Through Bridge
If the ferry schedule not works well for you, then simply by Vehicle through the world longest bridge, Hong Kong-Zhuhai-Macau Bridge (HKZMB).
The HKZMB Bridge is quite near the Hong Kong Airport.
It only cost 65HKD in the daytime and 70HKD at night. Only took 38 minutes to get to Macau.
For more information, read here at: https://www.nextstophongkong.com/travel-to-macau-via-hong-kong-zhuhai-macau-bridge/
Transportation to Venetian Macao & Parisian Macao
Taxi: Base price (first 1.6 km): MOP19.00, additional MOP2 for each 260 m afterwards.  Extra fees: Taxi waiting fee is MOP2 for every minute. Taxis have a MOP3 luggage storing fee.
Public Bus: Public buses operate frequently throughout Macau, Taipa, and Coloane. Buses have onboard stop notifications in Mandarin, Cantonese, Portuguese and English.  Price: MOP 6.00